Feedback of people traveling to Iran taking our services or on our Iran tour packages is so important to us and we do our best to operates the trips in the best way possible. We use also the testimonials to improve our services. Below you can check some of the feedback we have received from travelers from different part of the world.
This trip met all of my expectations and more. I have never felt so welcome in a country by its people and their hospitality is just amazing. The tour was very well organised with plenty of spare time to see the sights and mix with the locals.
Iran is a wonderful country to visit- beautiful, hospitable, welcoming people, great sites, diverse landscapes and delicious healthy food!
Iranian people are very welcoming and keen to speak.
I think all in the group were surprised at how friendly the people were. I certainly got to see a completely different side of the countr contrary to the usual depiction of Iran in the media.
Forget anything negative you have ever heard about Iran - it's the most wonderful and welcoming place I have ever been!
Iran was the coolest place I've ever been - the people, history and scenery were amazing!
One of the most amazing things about the trip was the friendliness of locals and their genuine interest in talking to you, telling you about themselves and their country - their warmth and friendliness made Iranian people look mean (I'm Irish)!
Iran was the highlight of my world trip so far and in terms of value for money I'd happily pay more for the same experience.
Iran was a really great experience, having been most places in the world, this was quite different, mainly because it's so historical and also so topical...I really felt lucky and privileged to be there.
Discovering the Muslim world I didn't know about, learning how ordinary and like us they are, what a wonderful eyeopener.....all the historical places we visited, the mud brick towns, Persepolis, Abyaneh, Qom....loved it all!
loved iran, a lovely surprise at the friendliness of ALL the people we met, they wanted to be photographed with us, which was a great turnaround, now we were the 'freaks'!!
Iran is a wonderful country populated by very friendly, hospitable people.
A fantastic trip, historically and culturally fabulous and a real insight into Iran and the misrepresentation of it we get in the West.
Iran is an amazing country and the people would have to be the most friendly I have ever come across. It is also an incredibly safe country to travel around - put aside any preconceived ideas or prejudices you may have, as Iran will truly surprise you!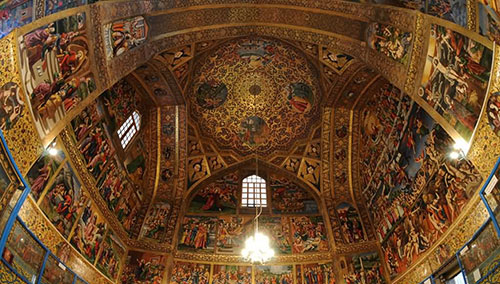 Vank Cathedral, Isfahan