In southern cities like Bandar-Abbas, Bushehr and Chabahar and the southern islands like Kish and Qeshm the weather is enjoyably mild and the temperature is about 24°-26°C during January. The medium humidity causes a nice weather with no sudden decrease in temperature during night.
Northern and western cities like Kermanshah, Tabriz, Gilan and etc., are almost covered in heavy snow with a temperature about 5°-7°C, and it sometimes decreases to zero or even lower and most of the days are snowy or rainy.
Central cities like Tehran, Isfahan and Shiraz pass January days with a temperature about 8°-12°C, less snowy and rainy than western cities.
During Christmas holidays, visiting a country with a whole different culture, nature and climate is an interesting experience, for sure. You can celebrate your New Year's Eve in a desert or a traditional hotel with your new Iranian friends. Don't forget to taste winter fruits in Iran like different kinds of citruses, apples and pomegranates.
Pack warm clothes and shoes (a jacket, a windcheater coat, woolen shawls, hats and gloves) for northern cities but if you want do some skiing you don't have to pack essential tools because you can rent them from shops available in the ski resorts.
For city tours in central and eastern cities a warm overcoat and comfortable winter shoes are fine and an umbrella may come handy.
Some suggestions on your January tour to Iran
If you are interested in winter sports and packed appropriately, north of Tehran is a good choice, because of the ski resorts available there. "Dizin" international ski resort which is known as the best in Middle-East, "Shemshak" resort and "Darbandsar" resort are all located in the north of Tehran so you can easily reach there and enjoy Iran's winter in an exciting style. Many skiers who travel to Iran for skiing believe that this sport costs less in Iran than in Europe.
Tehran, Isfahan and Shiraz with their milder weather can be better destinations for the ones who don't enjoy snowy and freezing winter. You can choose a cultural tour and enjoy the historical monuments from different eras and spend your nights in warm cafes and restaurants, meeting Iranian people.
Lut desert (Shahdad) with its extremely beautiful sky and kalouts has been introduced as the warmest spot on earth with a 70°C temperature recorded. So an excursion to stunning Shahdad, is a good choice on cold days of January.
If you are in Iran on the last days of January, don't miss the Zoroastrian mid-winter feast called "Jashn-e-Sadeh", held in Kerman and Yazd, where most of Zoroaster people live. Zoroaster people make a very large bonfire, as the symbol of defeating "Ahriman" (Satan), because fire and its light have assumed holy in ancient Iran's philosophy before Islam. They gather around the bonfire, say prayers in ancient Persian language and wish their soul to remain pure and innocent. Warming the earth's heart in the middle of winter to prepare it for the upcoming spring is another symbolic reason for making this giant fire.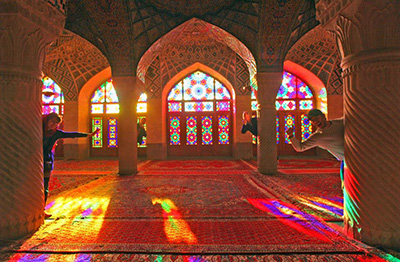 Iran trip in January