Central cities' temperature is about 15°-20°C and the weather is great for walking in cities and visiting the attractions.
Southern cities, which are getting warm for the spring have a spectacular nature in March. In Bandar-Abbas and Khuzestan the temperature is about 25°C during March and the humidity increases little by little.
Northern and western areas like Rasht, Tabriz and Kurdistan are not cold and freezing like December and January days and the average temperature is about 10°-12°C.
March in Iran! Good choice! Iranians love this month because these are the days before Nowruz. Everything goes active and alive. Iranians get ready for the Nowruz and plan for their trips, children go mad because holidays are coming and the nature genuinely grows green and young. The whole natures of Iran go springy! Some traditional feasts are held on the days before Nowruz that are so interesting to see.
Take a warm jacket for nights in central cities if you are cold-sensitive. You will also need a coat for cold nights of western and northern cities on March.
Don't forget your camera for capturing green landscapes of Iran during spring.
Some suggestions on your March tour to Iran
If you want to experience cold but beautiful cities of west like Tabriz, Hamedan and Kurdistan you need to pack your warm clothes and shoes.
In central and southern cities light coats and jackets are sufficient, especially on the last days of March.
Visit Shiraz, Isfahan, Mashahd and Tehran and enjoy the vibrant pre-holidays atmosphere.
Visit Persian Gulf harbors and enjoy their temperate weather before it gets warm there.
Visit Oceanic harbor of Chabahar.
Samanu-pazun is the old ceremony of cooking Samanu (an Iranian sweet made of wheat) while all the family members and friends are gathered. This takes more than 24 hours until the Samanu is ready.
An interesting Iranian custom held in March, is charshanbe-suri (Wednesday's feast) or the feast of fire. On the last Wednesday eve before Nowruz Iranians make a bonfire and jump over it, hoping the bad spirit to go away and good vibes to be received from the red, holy fire. Children stroll in neighborhood alleys, knock on random doors and ask for sweets and little presents. The origin of this feast dates back to Zoroastrian era when Iranians celebrated the last five days of each year in honor of the dead. Now a days families and friend groups still gather around a fire even if it is a little one and celebrate this night with music and dancing. According to Iranians being hospitable, you can easily join them and partake in the feast.
The most important and famous feast of Iran is Nowruz. It is the Iranian New Year ceremony which has been celebrated for 3000 years in Balkans, black sea basins, central Asia and western Asia. Nowruz, this symbolic ritual, has been celebrated in honor of the spring getting started and revival of the nature in the north hemisphere of the earth, on first day of Farvardin (march21). Nowruz starts with setting up and gathering around a table named "haft sin" which includes seven items starting with "S", which are the symbols of health, happiness and etc.:
Sabze (lentil sprouts that plant in a dish)

Samanu (a kind of sweet, made from wheat)

Senjed (a little red and dries fruit)

Seer (garlic)

Seeb (apple)

Somaq (sumac berries)

Serke (vinegar)
Although roads and tourism attractions are very crowded and most of hotel rooms are booked during March, but interesting customs related to Nowruz make it worthy to be visited once.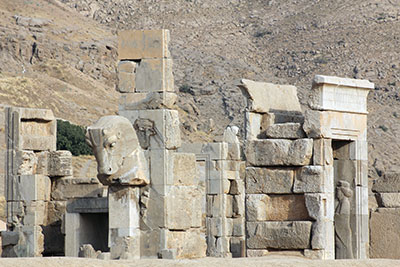 Iran trip in March