When foreign tourists think of traveling to Iran, at first they may think of visiting Iran deserts and not ski resorts, most of them do not know that Iran has so many excellent skiing resorts for winter sport , there are 16 ski resorts in Iran.
Dizin Ski Complex
Located in the north west of Tehran in the middle of Alborz mountains near the summit of Mt Damavand, the Dizin Ski Resort is the best and the largest ski piste in Iran and the Middle East, Due to its high altitude 3600m and slopes which face northward, Dizin receives great amount of snow each year.

This ski and snowboard resort is an ideal place for the snow lovers who are looking for less explored place for their vacation and a fine place for acclimatization for those who want to climb the peak of Mt Damavand 5671m by ski. This ski region is administered by Iran Ski Federation.

Due to the size of slopes, technical and physical qualities and other feature, Dizin and Shemshak Resorts were the first ski center in Iran to recieve official recognition from the International Ski Federation ( FSI ). These two ski resorts are famous for the length of their ski runs and length of their ski season which usually lasts from November to May.By obtaining a single ski ticket one can make use of all the pistes, telecabins, telesieges and other facilities for 1 day.
It is possible to rent ski and snowboard equipment at three places: the pro-shop at the Hotel which has the newest great and thus much more expensive, the rental places around the parking lot by the hotel and a few small places along the road at the parking lot on the top. The latter is about half the price compared to the ones at the bottom of the slopes. Same applies to rentals in Shemshak.
Ski instructors are available for hire. It is also possible to hire an experienced guide who can take you to other mountains and off-piste skiing.
Dizin is an excellent place for skiing and snowboarding, with 22 lifts in the area. A day pass costs between1,550,000 and 1,800,000 rials (more on the weekend). A snowboard can be rented for 100,000 per day, but can go as high as 300,000 per day depending on where you rent and quality. Cheaper rentals are available in Shemshak or at the parking lot on the top of Dizin.
Grass Ski
Ski on the same piste in the summer, on the grass rather than the snow, the ski activity in the area is not limited to winter, Disin is an important grass-ski centre for the summer too. The first international grass ski competitions was held at Dizin Complex In 1996 by the International Ski Federation with participation of some famous countries.

Ski Classe and Courses
Step by step ski training courses are avalable to the trainees, beginner who require some training in either Alpine skiing or snowboarding can take part in these classes and take lessons from qualified ski trainers and can work with a coach next to the pist.

Popularity and Crowd in Iranian weekends
Because of its popularity, Dizin Ski Resort is crowded in Iranian weekends (Thursdays and Fridays), try to avoid these day if possible, otherwise you may spend more of your time in telecabins queues rather than skiing on the piste.
Hotels
There is also a hotel in Shemshak from where you can catch a ride or a taxi to the top of the slope. Next to Dizin Hotel 1 there is another hotel with the equally creative name Dizin Hotel 2. However as of 2008 it was undergoing renovations and only the restaurant was open.
Dizin Hotel +98 261 5212449 - 5212978 (fax: +98 261 5212449). Old hotel situated just in front of the ski slopes. Great view from rooms facing the slopes. There is one very friendly and resourceful lady at the front desk, make sure you deal with her as everyone else is incompetent. Restaurant serves the usual kebabs. The former cool-looking retro bar has been turned into a coffee shop with non-alcoholic beer. 30% discount on weekdays. It has access to ADSL internet.
Gajereh Hotel. There is also hotel about five minutes before arriving at Hotel Dizin. This hotel is slightly cheaper and will have a higher chance of having vacant rooms on weekends. It has a free shuttle bus to the slope.
Restaurants
During the day there is a SFC (Iranian version of KFC) in the middle of the slope and a snack bar at the top. The latter also serve breakfast.At night there are only two restaurants (also open for breakfast and lunch); one in Dizin Hotel and another in the other hotel (only restaurant is open).

Rent Equipment
You can rent any equipment and skiwear in the area, all kind of ski and snowboard, monoboard and Alpine ski, cross country skis and accessories.

Other Sport Activity and Facilities in Dizin Complex
This resort can offer you and your family a variety of sports activities to enjoy your vcation, altitudes and heights for mountain climbing and walking, different route and tracks for mountain cycling, volleyball grounds, tennis courtyards, paint ball area, caoching and training classes, children park and slope for grass ski in summer to experience interesting aspect of Iranians lifestyle.

Working Days
In winters, this resort is open during the weekdays and in summer, it is only open in Iranian weekends (Thursdays, Fridays) and national holidays.

Facts and figures
It has various pists of different kinds and grades and you can ski in many different styles during the same day. There is also a beginner's pist for newcomers.Skiing in Dizin is good for the less experienced skier; 50% of runs are suitable for beginners, 40% for intermediate and 10% for advanced skiers.The air is drier than at European resorts, making some excellent powder. Many snowboarders can be found on the slopes.With only 2 to 3 hours of driving away from Tehran many people prefer not to stay there overnight. Cheap tickets by European standards and rarely have queues except at the weekends. Dizin ski resort is far more relaxed than the rest of Iran.

Quick Facts, Ski Resort Specifications
Targeted Activities: Skiing, Snowboarding, Grass Ski
Season Availability: November to May
Height variation 2650m to 3600m
One of the highest ski lifts in the world, lift reaches 3,600 m (11,800 ft),
One of the 40 highest ski resorts in the world.

Resort Altitude : 2700m
Top elevation, Highest Lift : 3600m
Base elevation, Lowest Piste : 2650m
Vertical drop Max 850m
Skiable area: 470 ha
Runs: 23
Night skiing: No

Lift system:
3 gondola, telecabins,
12 chairlifts , Ski Lifts
1 hammer teleski,
7 dish teleskis, drag lifts,
2 skilifts, chair lifts
Snow depths average 2m at bottom to 6m at the top
Established in 1969

How to go there from tehran:
Taxi. 300-350,000 rials one-way.
Group tour organized by hotel or your travel agent.
Leaves very early in the morning, around 5am, and departs from Dizin around 3pm. Price is 100,000 rials return.
There are two ways to reach Dizin from Tehran. The longest and safest way is through Karaj, this road is usually open but it takes about 2,5 hours. The quickest way is directly north passing through the resort of Shemshak. Between Shemshak and Dizin the road is steep and frequent avalanches means this part of the road often is closed. The minibus mentioned above use this way - Unless you are on a day-trip it is strongly advised you take the road through Karaj.
Make sure you check the weather and snow forecast before you leave, especially if are traveling the direct route.
Via Chalus (Chaloos) Road 124 km
You can easily reach the resort from Tehran by taking a private taxi or bus, about 2-3 hours of drive from Tehran.
Via Shemsak Road 72 km
There is a shorter route which brings you in 1 or 2 hours but may be closed in winter seasons after a heavt snow.
Location and Coordinate
Altitude 3600 m
Latitude 36-02-57 N
Longitude 51-25-02 E
Distance from Tehran by Chalus Road 124 km
Distance from Tehran by Shemshak Road 72 km
North West of Tehran in the Middle of Alborz Mountains, City Dizin State Tehran Country, Iran
Shemshak ski area is located at a distance of 57 kilometers north-east of Tehran. It came into operation in 1337 (1958). It includes two ski lift, three dish teleskis and two Hammer teleskis. Shemshak ski area, being next in rank to Dizin ski complex, was granted an International title in Shahrivar 1375 (1996) soon after some corrections made in slopes and snow tracks. Amenity and recreational facilities such as two hotels, 4 restaurants were provided to receive sport lovers. The highest point of the field is 3050m, while The lowest point is 2550m above the sea level.
The length of ski season at Shemshak is variable from (Nov. 22-April 4). Shemshak in summer is the most favorable resort for recreation and sport. Fresh and delicate weather as well as closeness of the region to the greater Tehran has attracted many foreign and home tourists. Besides, in winter nights, the ski area is lit by powerful amber lights to provide a very interesting and spectacular scene so that the skiers can ski till midnight.
You're obviously here for the snow, right? Shemshak is far less crowded than Dizin, although is smaller and caters more to more advanced skiers (and some snowboarders).
Currently, a lift daily lift pass (the only ticket option) is 850,000IRR. Trail maps seem rather scarce, although a number of websites have produced their own (see, for example, snow-forecast.com).
Rental prices vary, but a decent set of skis, boots and poles can be found from 150,000 IR. Quality varies widely, so it pays to look around first. Surprisingly, the smaller rental operators closest to the main entrance seem to have better equipment and prices.
Get in
An early morning taxi should be about 150,000 IR one way. If you are only skiing for the day, ensure that the driver takes you all the way to the ski hire shops near the entrance (as the main road is quite steep). Look out for the Super Star burger outlet, about 100m down from the ski field entrance.
There are rumors of public transport (savaris and minibuses), although these do not seem to depart from Tehran's Eastern Bus Terminal as suggested by the most recent edition of the Iran Lonely Planet. A knowledgeable young local may be able to assist.
Hotels
There is only one official hotel in Shemshak:
Shemshak ITTIC Inn (The Shemshak Hotel), Fasham Rood Bar Ghasran (Located along the main road from the ski field, about 400m downhill and up a set of icy steps), +98 221 3552260 / +98 221 3552261 (fax: +98 221 3552912). checkout: 2:00 pm. .The hotel has a range of rooms from comfortable singles and twins to more expensive "suites". Bathrooms are clean and equipped with Western-style toilets. Prices may be somewhat negotiable in quieter times, but bookings are advised, especially if you intend to secure one of the only two single rooms. The hotel's service seems to vary depending on whom is on duty.( Twin (3,550,000IR),Triple(4,350,000 IRR), Suit(5,220,000 IRR))
Some travel guides also discuss the possibility of apartment rental in Shemshak. Given the large number of apartments (completed or under construction) this would be a better option for larger groups. Local agents do not seem to advertise, although reputable travel agents in Tehran may be able to assist.
Restaurants
Options are fairly limited, although there are "Boof" (McDonalds + KFC) and "Super Star" (Hardees + KFC) fast food outlets. Both are located along the main road that passes the main entrance of the ski field.
A small bakery is located between these two fast food outlets, although it tends to only operate until around the early afternoon.
At present, Shemshak ski area is administered by Iran Ski Federation.
Open to public Winter, Weekdays.
The first ski area in Iran in which mechanical ski lifts were installed in 1332 (1953) was Ab Ali.
Prior to that, typically, since the region enjoyed favorable climatic condition in summer, sportsmen and those who liked mountainous areas and skiing rushed to the region for its recreational facilities.
Since Ab Ali is situated on the road of Tehran-North, many sportsmen were familiar with Ab Ali. Specific characteristics such as thermal spring water, Imam-Zade Hashem Holy Shrine and etc, have made the region much distinctive from other ski fields of Iran. Ab Ali is situated at a distance of 75 Kilometers east of Tehran. This region is the birthplace of modern ski and the base of ski sport in Iran. Ab Ali ski and lift facilities include: one telecabin. five dish tele-ski and three hammer tele-skis which are divided among three sections: Oil company's ski field, private fields and the physical Education's field.
The highest point of region is 2650m, while its lowest point is 240Gm above the sea level. Skiing season varies from (Dec.22-Mar. 19). The region has six restaurants and one Hotel.
Open to Public : Tuesday, Wednesday, Thursday, Friday, Saturday, all year round.
The most recent ski area came to operation as a private company in (1982) with the co-operation of forerunners in ski and lovers of ski sport. The area itself is located at Darbandsar village 60 kilometers north east of Tehran. In lifting facilities include a skilift, two Hammer teleskis. The lowest point of the field is 2600m and its highest point is 3050m above the sea level.
Skiing time beings from (Dec.6-April2O).At this skiing season a great number of ski lovers attend the field. Since areas such as Maygoon, Zagoon, Shemshak, Darbandsar, Fasham, Oushan and etc... lie at Rundbare-Ghasran region, the whole region enjoys a unique and beautiful picturesque nature with varied climate. In the north of Darbandsar, there lies a valley named Taltangeh which is open to skiers in (June22-July22).
Open to Public: Winter, Weekdays.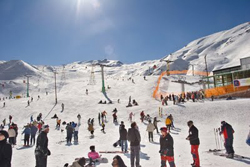 1- Khor Ski Area
2- Payaee-chaee Area
3- Tarik-Dareh Area
4- Ardakan-Fars Area
5- Kohrang Area
6- baba Haydar Area
7- Uroumiyeh Area
8- Yam Area
9- Beejar Area
10- Kakan Area
11- Shazand Area
12- Nour-C tub Area
13- Sepeedan Area
14- Dena Area
15 - Chel-gerd Area
16- Daran Area

35K to Karaj
42K to Zanjan
15K to Hamedan
120k to Shiraz
75k to Shahr-kord
65k to Shahr-kord
42k to Uroumiyeh
60k to Tabriz
65k to Kordestan
35k to Yasouj
35k to Arak
67k to Tehran
near Fars province
near Koh-kilooyeh & boyer ahmad
85k to Chahar Mahal & Bakhtiyari
100k to Isfahan

1 Teleski
1 Teleski
2 Teleski
1 Teleski
1 Teleski
2 Teleski
2 Teleski
3 Teleski
1 Teleski
1 Teleski
1 Teleski
2 Teleski
I Teleski
1 Teleski
3 Teleski
1 Teleski