The temperature during this month in Tehran, Isfahan and Shiraz is around 27°-28°C with light rain once in a while and it is a suitable weather for visiting the cultural and historical monuments in these cities.
Southern cities are getting cooler and less humid as well and their average temperature is 33°-35°C.
Eastern cities like Kerman and Yazd have a nice weather with slighter sunshine than summer days and the temperature is about 28°C.
In northern and western areas of Iran especially on the heights with temperature lower than 22°C and nice autumn rains, people are getting ready for the cold season.
October is the second high season after April in Iran. The weather gets mild and cool after the long summer heat, while beautiful autumn begins and the day light is great for photography. On the other hand, foreign tourists can enjoy less crowded roads, hotels and attractions, due summer vacations being finished.
Light jackets and shoes are fine for October in central and eastern cities. But you may need a coat and a poncho for northern and western destinations.
According to October being a good time for desert tours, don't forget head lamps, sleeping bags and suitable trekking shoes while packing.
You will still need summer clothes, sandals and sunglasses in southern cities.
Some suggestions on your October tour to Iran
October with its suitable temperature is a good time for desert surfing. Deserts like Maranjab

and Mesr in Isfahan province with mild weather about 26°-27°C on October days and 22°-24°C on nights are more suitable deserts than Lut in October. You can enjoy the beauty of sand hills, the camels walking in the desert and the sky, which burns in red during sunset and goes madly stellar in the night.
Northern cities are good destinations due to their cool weather, fewer crowds and most importantly the beauty of the vast green forests turning yellow and orange little by little. Villages like "Masouleh" (a special stair village in Gilan) and "Javaher-deh" (a village located over the clouds in Mazandaran) are amazingly beautiful although they are a bit cold during October.
In ancient Iran, 149 days after Nowruz (on the first days of October) an autumn feast, named "Mehregan", used to be held annually. This great luxurious feast was held in honor of cold and rainy season, getting started. "Mehregan" was also held to worship "Ahura-Mazda" (the great God) for all the blessings and the constant friendships between people.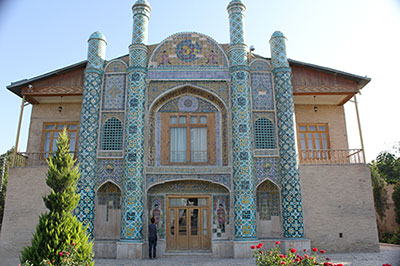 Iran trip in October