The temperature is about 20°-22°C in central cities and spring rain gives a blooming sensation to everything. Tehran, Isfahan and Shiraz have the most amazing weather in April.
Northern cities like Ramsar, Rasht, Lahijan and etc., with 17°-20°C temperature have a great weather in April with low humidity and nice spring rain.
Even southern cities are still suitable destinations with a temperature around 30°-32°C and a tolerable humidity.
April days are simultaneous with Ordibehesht (Iranian month) days in Iran. The word "Behesht" means heaven in Farsi language and Iran's nature does look like heaven in April. All the cities have suitable weather and that's why April is the peak season of visiting Iran.
Take a light jacket for nights in central cities if you are cold-sensitive. You will also need a coat for cold nights of western and northern cities on April.
Don't forget your camera for capturing green landscapes of Iran during spring.
Some suggestions on your April tour to Iran
Cities are covered in fresh colors like green and pink, roads are beautiful and the nature is a great piece of art. So, we suggest you to choose road trips for moving between the cities you want to visit.
The experience of visiting Shiraz during April is something that won't be forgotten for a life time. Shiraz is known as the city of historical gardens like Eram, Afif-Abad, Delgosha and etc. Don't you wonder where is this nice aroma coming from? This is the scent of sour orange blossoms spread all over the city in old alleys, gardens and even crowded streets. If you have a bird's eye view over Shiraz, you will notice that this city is surrounded by mountains and covered with long standing cypress trees. Maybe that's why Shiraz has been home to many world-famed poets like Hafez and Saadi and the people who are living in this city are so hospitable, with a calm and joyful lifestyle.
Visiting vast fields of wild tulips, alive rivers and springs on Zagros heights in Kohgiluye-va-boyir ahmad province is a good choice if you prefer to have an outdoor tour. You can also join a group for a professional mount climbing in this world-known mountainous land.
"Golabgiri" festival is held in some cities like Kashan, Lalehzar (near Kerman) and Meimand (near Shiraz) during April. "Golabgiri" is the process of extracting rose water with traditional sweating methods. Iranians use this fragrant liquid in making traditional Sweets, ice-creams and syrups.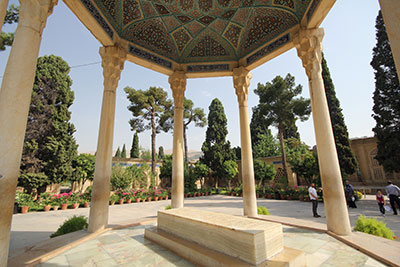 Iran trip in April