Seven Pink Places You Need to Visit at Least Once in Iran
From rose-pink colored Nasir al-Mulk Mosque and flamingo-pink Maharloo lake to Abyaneh village decorated with copper-pink houses, life always looks rosy in these gorgeous pink-hued destinations.

Naming a shade of Pink as "Persian Pink" centuries ago shows the root of this color in mankind history, not just in Iranian pink natural attractions or just in Persian pottery, Persian carpet or Iranian tiles but also in fashion world.

... while pre-eminent above all are the Persian pink‌ (called by non-aesthetics' "terracotta pink") and Venetian red; The Persian pink is a peculiarly becoming color, and we have lately seen a charming dress made from it...

The Lady's Gazette of Fashion, 1881
7 Most Instagrammable Pretty-in-Pink Attractions in Iran
1. Pink Mosque in Shiraz - Nasri al-Molk Mosque
Nasir al-Molk mosque was established in 1888 by a landlord and Qajar official of the same name in Shiraz and is boasting amazing rose pink tiles coated its vaults and walls, marvelous stalactite vaults and stained glass lattice windows a as one of the top instagrammed pink attractions around the world. Its Western Nave and Pearl Vault are the most photographed sections of this beautiful piece of architecture in Iran. The best time to take photos in the Western Nave of "Nasir al-Molk Mosque" is from October to February which is coveted by professional photographers because the sun shines obliquely and allows the photographer to take photos of the nave area in the best light conditions. In order to be able to record the dance of light and color in its best production, we suggest you to visit the pink mosque from 7 am to 9 am as the maximum volume of light is shining at this time. In the afternoon, the sun casts light on the "Pearl Vault" and makes the vault look even more beautiful. Therefore, after the early morning photoshoots you may come back so that you can also take wonderful photos of the "Pearl vault".
2. Pink Salt Lake by Shiraz - Maharloo Lake
A beautiful pink lake that hosts thousands of domestic and foreign tourists and migrating birds every year,
is in your reach in Iran by driving for 30 minutes from the city of Shiraz. March and April are the most favorite months for birdwatchers as migrating birds including flamingos decorate Maharloo lake, from June to November it is popular for pink color lovers as this Shiraz salt lake gets very pinkish due to the higher evaporation of water and is also popular for salt flat lovers as a big part of the lake dries up but from November till May is popular for people who want to se the Maharloo lake full of water and may like go paddle boating.
What makes Maharlo lake in Shiraz celebrated in Iran and the world is its pink color, which can be seen in its natural form. Since the salt lake holds plenty of salt and received a lot of sun, it has prepared the ground for the growth of a kind of harmless and single-celled green algae called
Dunaliella salina
which a type of shrimp called Artemia Salina present in the lake feeds on it. If the temperature rises and the concentration of salt in the lake water increases, this algae produces a pink pigment called beta-carotene.
3. Pink Village - Abyaneh Village
Abyaneh pink village is located 40 km from Natanz and 170 km from city of Isfahan and is accessible by private and public transport from cities like Kashan, Natanz and Isfahan. To build houses in the village, they were utilizing the pink soil that was extracted from the nearby pinkish mountains. This soil is made of clay, which holds pink color due to the presence of certain minerals. Consequently the houses of this village are pinkish and it has made Abyaneh to be known as the Pink Village. This village is located at the foothills of the Karkas mountains, so its houses are built in steps. If you meet women of this pink village, even their traditional clothing including their scarf and skirt, is decorated with a generous amount of rose pink color.
4. Pink Lake by Chabahar - Lipar Lake
Lipar Pink Lake of Iran located by the Indian Ocean and the Oman Sea is probably one of the most photographed attractions in the southeast of Iran. Lipar Chabahar seasonal lake is located in the beautiful and very scenic region of Makran coast in Chabahar harbor. Lipar lake is located 20 kilometers away from Chabahar, and it will take 15 minutes to drive by car from the port to the Ramin village and the big rocks overlooking the Lipar lagoon. Lipar lagoon is the junction of small and big rivers and each of these rivers carries a lot of organic and mineral substances, and the accumulation of them along with a large amount of plankton in this lagoon makes its water color turns pink. The monsoon currents increases the amount of Planktons from June to September and causes the level of planktons in the lagoon to reach its highest density in late autumn. The pink color of Lipar Lake water looks like a mixture of milk and strawberries, but it tastes very salty in contrast to its beautiful pink shade, so avoid trying its taste. Flamingos, pelicans and duck migrate to this wetland in winter when the weather of this region is warmer and more favorable than other areas, and when the weather warms up again, these birds resume their migration. The best time to visit the lake is from December to April when the lake is holding water and is very pinkish, the weather is mild and the migrating birds are there.

5. Pink Mud Volcano by Caspian Sea - Neftlijeh Mud Volcano
Naftlije mud volcano is is located in Gomishan city on the eastern shores of the Caspian Sea. It is 15 kilometers from Gamish Tepe border city and a short distance from the Bandar-e Torkman port. Naftlije pink mud volcano is a top tourist attraction of Bandar-e Tuokman, and is located at a height of 26 meters above the sea level and has a conical shape. This mud volcano is about eight meters high and 500 meters in diameter, and a small pink lake is formed on top of it, and from its crater, salty water comes out along with clay mud and gas with high pressure. The outlet water of Naftlijeh has iodine, which has turned the color of water into pink when exposed to air and in chemical interactions with water. This Iodine sediment is gray and violet-black crystals that have a little metallic luster. Naftlije pink volcano has recently got this pink color and has become a pink lake. It is possible to visit this natural attraction all around the year but April and May are the best months.
6.Shiran Heritage Hotel - Fath Ali Shah Qajar Room
Shiran Heritage Hotel, holding several air-conditioned rooms with private facilities that have been restored and decorated beautifully with pink, blue, green or red shade colors, is a converted heritage hotel that has been established after restoring a beautiful mansion belonging to Ali Qoli Agha as one of the royal courtiers during the reign of Shah Sultan Hossein during Safavid dynasty around 1700 AD when Isfahan was the capital of Persia. The safavid mansion was divided into three separate houses during Pahlavi dynasty and at the moment its Shahneshin magnificent room and reception section is Shiraz hotel in Isfahan, one part is an active Zoorkhaneh (House of Strength) club and one part is a part of the Park. During Qajar and Pahlavi dynasty the mansion has gone through changes that you may see if you stay at the hotel. The Shahneshin room is where we suggest that you stay at least for one night when you travel to Isfahan as it boasts amazing paintings, Stained glass lattice windows, mirror work and beautiful three doors and the shades of colors especially the pink one give it a great atmosphere. When the sun shines at the amazing Ursi, you may open the curtain of the room and take amazing photos. Ali Qoli Agha Hammam (Bath), Bazaar and district are worth a visit also.

To Book the hotel you can call them or send a direct message to them on their Instagram page: @Shiranheritagehotel Tel: ️03133373653 Mobile: 09901153653 Website: www.shiranheritagehotel.com

Address: This hotel is in in walking distance from Naghsh-e Jahan square and monuments and Isfahan Jameh mosque and is located on Ali Qoli Agha historic pass, Laleh Blind Alley that is by Chahar Bagh Paeen St. and is close to the Shohada Metro Station. @32.6695066,51.6657878,17.11
Price: Roughly 20 to 60 USD per person including breakfast

7. Maharloo Almond Pink Blossoms
The Pink lake is not the only pink beauty of Maharloo but light pink almond blossoms and the pink sky by the sunset of the lake also create a dreamlike picture that you will never want to miss. If you want to take amazing shots of Maharloo almond pink blossoms, sunrise is the best time and February is the right month. To reach Maharloo almond trees and gardens by the lake and Maharloo village , you must drive 30 to 40 minutes from Shiraz towards Sarvestan to capture the memorable sight of almond blossoms. You may stay in Maharloo village overnight in Maharloo Ecolodge.
You may book your room by calling on phone or texting, though Instagram Direct messages or through the contact form on its website. You can also book it through Uppersia travel hotel booking service.
Tel: 09305458560 Website: www.maharlooecolodge.com Instagram: @maharlooecolodge
Address: Maharlu village (20 km of Maharlu road from Shiraz to Sarvestan) - At the end of the main street of the village - next to the square - @29.3479908,52.8148713
Price: Roughly 20 USD per person including breakfast

Uppersia Travel Pink Attractions Tours in Iran
You can book Iran multi-day or Iran day tours to visit the pink places in Iran to visit the attractions at the best time regarding the daylight and best time of the year so that you may take the best photos possible when visiting these pink monuments or natural attractions.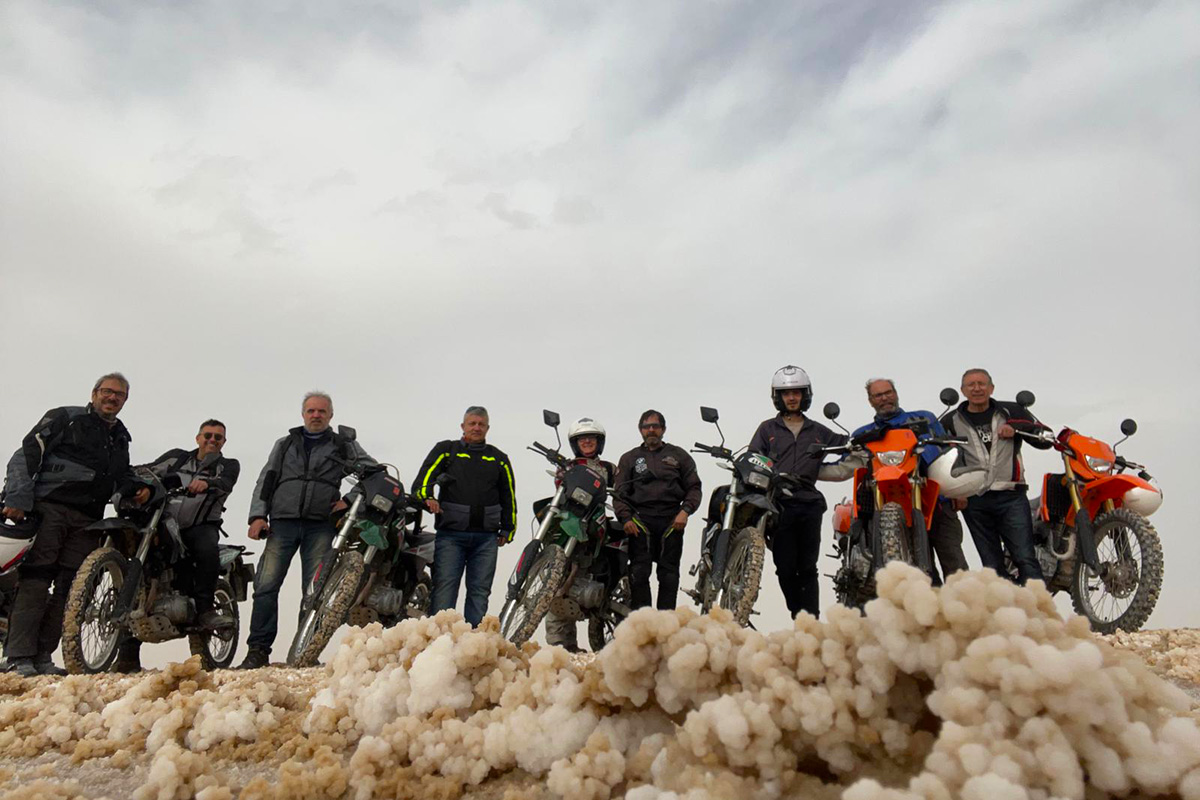 Book Iran Tours with Uppesia Travel to visit the monuments based on your interest including Pink Shades.
Thinking about traveling to Iran?
After receiving your email address we will be in touch to help you with your trip to Iran.