!!!Due to the current trouble in Iran caused by Corona virus, we strongly recommend you to postpone your trip to Iran until May. If you have any urgent need to visit Iran or you are already in Iran and need any help please contact us!!!
Iran travel risk map for 2023, Low travel risk for security and medical risk
When we decide to travel to a new country, the first thing that may come to our mind before the attractions of that country and the budget, is the safety and security of that destination. When It comes to countries like Iran, it is even more difficult to see the reality as the news mass media does not have much good to say about it due to their agendas. As an Iranian local tour operator and authorized travel agency, we have some suggestion as how you can be sure about the facts you get about how safe Iran is to travel to.
Most of us don't like to travel to a destination that is involved in a civil war, coup and widespread social disorder or is stricken by a widespread serious disease. When none of this has happened but you want to double check things on the grounds you have several ways to learn about a destination like Iran.
The first good thing of the current digital world is the social media. You can easily search through the social media profiles and by using tags find the people who have just visited Iran. They are the best people to tell you about the Iranian current situation, its safety. The pictures also tells on their own. Some travel companies like Uppersia have their own social media pages such as Instagram page that are also helpful to assess the current situation in Iran.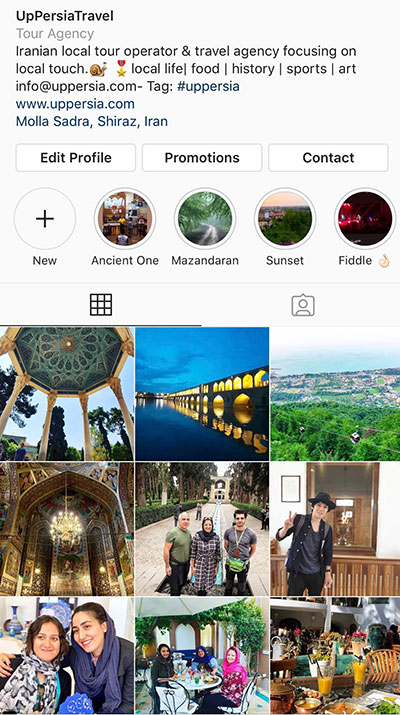 Uppersia Instagram page snapshot
The second option is to go through the travel blogs and see what people who have directly visited Iran have written about it. True travelers who are also travel bloggers wont write lies about a destination as their credibility is important to them.The shooting star is a good example of a girl who have traveled to Iran and has written extensively about it.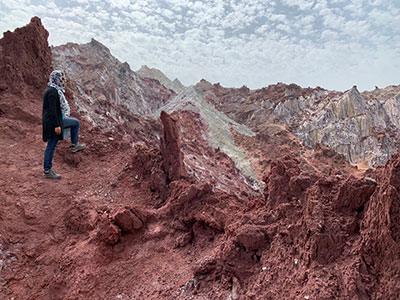 The shooting star blog photo of Iran
The third way is to to talk to your traveling friends who have just returned from Iran and learn about the facts. Sometimes some travelers setup a story sharing forum in a cafe on their trip to Iran or they may set up a photo gallery with their photos they have taken while they have been exploring Iran. You can meet them and ask your questions.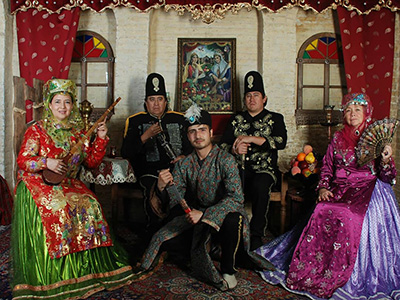 a photo in the Iranian travelers gallery
The fourth option is to choose a trustworthy local travel agency in Iran so that it arranges a tour for your or arranges some services for you and also ask for their advice on the safety. They can definitely keep you updated on this. You can trust Uppersia travel as a solution for your Iran adventure, as we never put our travelers at risk and we run our tours and services only when we are sure everything is secure and safe.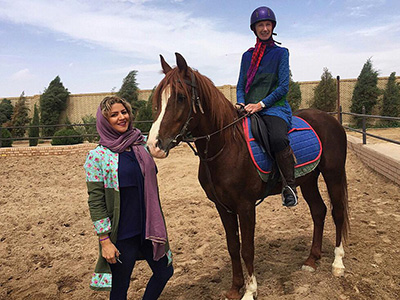 Safety and security matters the most for Uppersia team
The fifth option is to use some websites that are using the international statistics on safety and security and makes maps based on that. Still there is a risk that their data is biased and based on the political relations between the governments. Travel Risk Map is one of these websites.
The sixth option is to check the travel warnings that the governments offer that maybe is not a good one as they maybe politically motivated but putting it beside other options can give you the necessary tools to make your decision.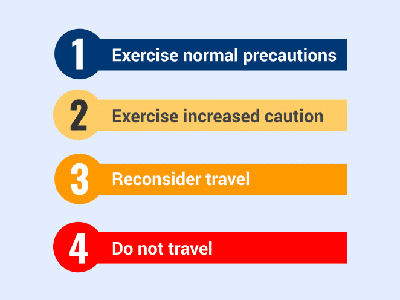 an example of travel warning levels by governments
The last and our best suggestion is to be in touch with Uppersia team when it comes to visit Iran and we will keep you updated on safety and security of visiting Iran. At the moment Iran is one of the safest countries in the world to visit, if you check all the options we have mentioned above except some governments travel warnings.